Affordable Learning Exchange to Fund 20+ Projects in 2017-2018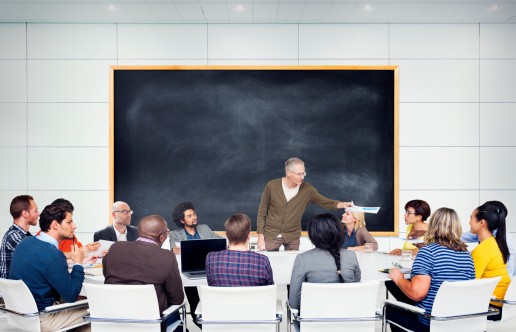 The Affordable Learning Exchange (ALX) has selected more than 20 grant recipients that will complete projects during the 2017-2018 academic year. The projects cover a wide range of academic areas and include a variety of tools aimed at providing an affordable experience for students. These projects are projected to save students between $900,000 and $1,200,000 annually!
From open content repositories, to digital textbooks, to workbooks of homework problems, find out how this year's cohort is stepping up to the challenge of President's Drake's 2020 Vision for access, affordability and excellence:
Audrey Begun – College of Social Work
As veterans of the ALX program, Audrey Begun and Jennie Babcock will replace conventionally published textbooks with free, open-source materials in three social work courses. They are also undertaking a course redesign that will include new learning activities and assessments that align with the new content.
Jonathan Buehl – Department of English
Along with an experienced team including representatives from regional campuses, Jonathan Buehl will create and curate a set of open access materials to replace current textbooks. These free materials will allow the program to create a more consistent curriculum, leverage the diverse expertise of the faculty from all campuses in the development of the materials, and build a research culture and scholarly community that currently does not exist among students in the writing, rhetoric and literacy concentration.
Lauren Hensley – Dennis Learning Center
Lauren Hensley has proposed to redesign the Online Learning course and replace the costly textbook with engaging online materials that are integrated into Carmen, including widgets, audio, and video media.
Greg Hitzhusen – College of Food, Agricultural and Environmental Sciences
This project will develop an online Pressbooks textbook to replace two books that will synthesize seven years of course material, exercises and lectures to provide a text that uniquely fits the class. The digital book will be available to a wider audience of Ohio communities and will be updated to match this emerging field on an ongoing basis.
Karen Macbeth – Teaching and Learning
Karen Macbeth proposes the creation of two digital textbooks for ESL courses. The first will adapt University Libraries' original digital book, Choosing and Using Sources, to match learner level and language proficiency. The second will be an original text for the spoken English course.
Elizabeth Miller – Department of Mathematics
Elizabeth Miller will lead the expansion of the Ximera open textbook platform to the Calculus 1, 2 and 3 courses offered on all of Ohio State's campuses, including Calculus for Business and Engineering. The project includes the creation of graded homework and practice problems to replace the current online homework system. 
Mark Moritz – Department of Anthropology
Mark Moritz proposes a redesign of the cultural anthropology course, based on online materials from Michael Wesch. Moritz aims to turn the course into a learning experience that takes students out of the classroom and into the real world via a collection of open podcasts, videos and text.
Zakee Sabree – Evolution Ecology and Organismal Biology
Zakee Sabree will redesign the existing course by leveraging University Libraries to deliver a familiar, omniplatform experience that will replace the need for conventionally published textbooks. The modular design will allow for adoption by instructors across the university. 
Christa Teston – Department of English
After an extended formal assessment process, Christa Teston will replace a textbook with a living, open source repository that provides accessible and affordable materials for the business writing course.
Yu Tsumura – Department of Mathematics
Again expanding the use of Ximera, Yu Tsumura will replace the standard linear algebra textbook with an implementation of the open textbook combined with a digital, open workbook that will contain examples and exercises for students. 
Rachel Bowen – Political Science
Rachel Bowen will create a free online collection of materials to replace textbooks in her political science course at The Ohio State University at Mansfield. The redesign will be flexible enough to be adapted for use by other instructors across campuses.
Amy Brunell – Department of Psychology
Amy Brunell will avoid the usage of a conventionally published textbook in her course that is a new offering at Ohio State Mansfield. The new resource will include journal articles and other primary sources delivered through CarmenCanvas.
Lee Cordell will redesign the Advanced Pharmacology graduate nursing course by replacing conventionally published textbooks with original, instructor-authored content combined with openly-licensed material.
Erika Kemp – School of Health and Rehabilitation Sciences
Erika Kemp proposes to replace the materials from two courses with a collection of curated materials, including videos, Medicare resources and patient simulation videos.
Andrew Kinney – Department of English
In his proposal that spans two regional campuses, Andrew Kinney will curate a collection of digital materials and a series of student enrichments for the compositions course. The collection will be available to instructors across Ohio State. 
Brian Partido – College of Dentistry
Using a combination of instructor-written content, openly-licensed material and library resources, Brian Partido proposes a course redesign that replaces the conventionally published textbook and provides more tailored materials for dental hygiene students.
Guy Rub – Moritz College of Law
Guy Rub will prepare statutory supplements for his paired contracts courses, which will include edited provisions from the Restatement of Contracts, and the Uniform Commercial Code, as well as his original comments.
Sarah Rusnak – School of Health and Rehabilitation Sciences
Sarah Rusnak will replace multiple textbooks with a combination of data from the public domain, existing open resources and instructor expertise. The result will be new materials that will serve both the lecture and lab portions of the course.
Zoe Brigley Thompson – Women's, Gender and Sexuality Studies
Zoe Thompson will replace a traditional textbook with a digital curation of e-books, online journals, memoirs, papers, literary magazines and videos using the various resources available openly and through the University Libraries. 
Sébastian Proulx  – Department of Design
Sébastian Proulx plans to design and build rolling carts that will serve as communal resource centers for Design students in Hayes Hall, making scrap pieces from large design projects available to be reused and recycled by other students.
Deborah Scott  – Department of Art
Deborah Scott's project will use ALX grant funding to create a library of commonly used tools and supplies for the General Education and foundational courses in the Department of Art.
Maryanne Beecher – Department of Design
This project aims to reduce the cost of a mandatory course supply kit by purchasing an adequate supply of specialized tools that are unlikely to be needed beyond the study of design foundations, and redistributing them each semester rather than requiring each new student to purchase them.
ALX is a cross-campus partnership between University Libraries, the Office of Distance Education and eLearning, Undergraduate Student Government, the Office of Academic Affairs and the University Center for the Advancement of Teaching. ALX funds and supports instructors who want to replace their conventional (and sometimes, costly) course materials with open educational resources or other low-cost alternatives. In doing so, students not only save money, but in many cases, instructors also create custom course content and transform the teaching and learning experience in their classrooms.