Students: Learn How to Save Money on Textbooks and Course Materials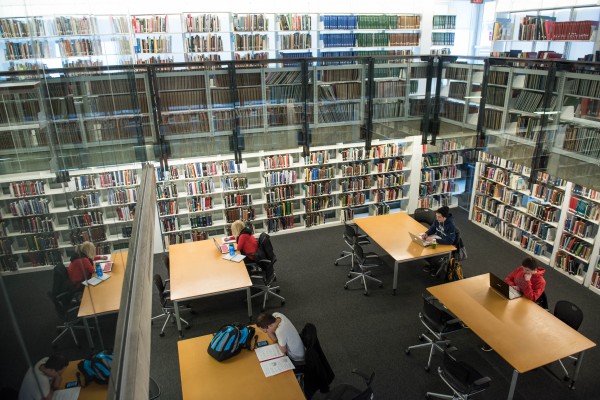 Class is back in session, but have you thought about how you are going to pay for your textbooks this school year? Before you go running to the bookstore, check out the different services University Libraries has to offer. University Libraries is a part of the Affordable Learning Exchange (ALX) at Ohio State. ALX supports a variety of initiatives, from faculty grants to CarmenBooks, with the goal of building excellent and affordable learning at Ohio State. Read on to learn how University Libraries supports the mission of ALX and how they can save you money!
First Year Success Series
Since all first-year students have to take a few First Year Success Series courses, why not take one to learn about our library services? "Beyond Books: Key Library Resources for your First Year" shares services University Libraries has to offer, like course reserves, locations and Carmen Library Link, as well as initiatives designed to help students save on research articles and other learning materials.
USG Partners on Course Reserves
Ohio State's library services began working with Undergraduate Student Government (USG) in 2006 to create a fund to help cover the cost of curricular resources and general education course materials. Since 2006, this initiative has helped save students over $2.7 million and has provided textbooks for 150 general education courses. Make sure to ask your advisor which courses qualify for these funds.
You can also visit any University Libraries location and see if your course book is on course reserves. This will allow you to check out the book for a few hours per day for free. This way, you could make a study group with some classmates, and share the book while doing homework.
Borrow your course materials
If your textbook is not available through course reserves, you may be able to find it at another location in the library's network. If your course materials are available somewhere else in Ohio, University Libraries can have them delivered to Ohio State for you to borrow and return on campus—at no cost to you!! When you search University Libraries' catalogs, you will find an option to search OhioLINK for local books, journals and more. Why don't more students do this?
Need a film? Stream it through University Libraries
If your instructor requires you to watch a film, check out the university's streaming options before paying to rent the film! University Libraries has access to streaming services like Kanopy and Swank, and the film you need may be available to you for free. Think of these services like educational Netflix—they offer hundreds of films and documentaries. Instructors are encouraged to utilize these tools and provide a link to these free resources in their Carmen course. If the film for your course is not available, your instructor can request it to be added to the digital library catalog.
Free Help for Research Papers and Projects
Choosing & Using Sources: A Guide to Academic Research is a free and interactive textbook that provides students a guide to tackling their next big research assignment. Learn how to formulate research questions, evaluate your sources, avoid plagiarism and more. This free online textbook also allows students to ask questions, take quizzes and make annotations within the text. It is easier than carrying around a large textbook worth hundreds of dollars that is not nearly as useful.
---
University Libraries has many services for students to have an affordable college experience. So, before you go running to Amazon or Barnes & Noble, why not run to the library and ask the librarian what service would be best for you and your courses!