Ohio State English Professor Breaks the Mold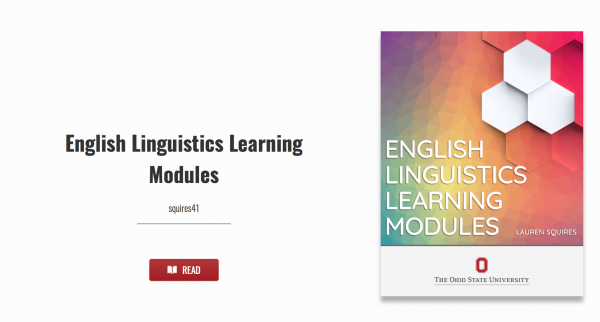 Ohio State English professor Lauren Squires has broken the mold. She has replaced a traditional textbook with her very own original materials, which include readings and activities.
Squires noticed that there was a gap between the information in textbooks and the specific content she intended her students to learn, due in part to the overwhelming amount of material in textbooks, which far exceeds the span of a single semester.
So, she took action. Squires developed a project that would help her students better understand the information and effectively assist them in saving some cash.
Fortunately, the Affordable Learning Exchange has aided Squires in turning her visions into reality. This shift from physical textbook to digital content has the potential to save students approximately $5,500 a year.
Why did you decide to pursue this project?
There are some great textbooks out there for the content I teach, but after teaching my "core" set of courses for several years, I realized what a disconnect there often was between what's in the textbooks and precisely what I wanted my students to learn. I felt like textbooks often included way more than we could cover in a single semester, and often contained too much detail for my purposes. I also had begun to settle on specific ways of presenting information that suited my pedagogical style, and had some ideas about how a less traditional textbook, making use of digital tools, might facilitate the learning in my classes more effectively. The ALX grant seemed like a good opportunity to put those ideas into use, while also providing a great financial benefit to students.
Has anything changed from your original plan of what your online resources would be like?
My original idea was to create a set of online learning modules that would replace textbooks for TWO of my classes, which have some overlapping content (English 3271: Structure of the English Language and English 4572: English Grammar and Usage). It became clear pretty quick that that wasn't going to be feasible to do with the scope of the ALX grant, so I altered my plan: I would fully replace the textbook for the grammar class in a format that lent itself to being built upon with (or embedded within) eventual modules for the other class.
My goal now is to slowly build content so that eventually I can also replace that other textbook. I had some other ideas at the beginning about fancy digital tools that weren't implementable with this round of resources—but I am hopeful I'll get to implement them in the future. In the meantime, I have learned to work with the available online tools, integrating h5p exercises and quizzes, links to external resources and Google forms, for instance.
How has the input of students helped to shape the new course resources you've put together?
I would say that the textbook is a direct response to how I've seen students learn in my classes over the last five years. For my content, sitting and reading at a stretch just isn't the most effective way of understanding things, and I've always had feedback that *most* students just don't even touch the textbook. Instead, since so many of the concepts are new and the work requires problem-solving, it works better for students to read a bit, then do an exercise, re-read, do a more applied exercise—those kinds of reading+activity cycles. So that's what I've tried to incorporate. I've also incorporated a lot of pop culture examples, which I use in my lectures too, because students always comment that connecting things to their own interests, even if it's just using a lyric from Beyoncé as an example, helps them engage and connect with the concepts.
Why should your peers apply for an ALX grant, and what advice do you have for others thinking about reimagining their textbooks and course materials?
The support I've received from the ALX folks (mainly Mike Shiflet) has been fantastic, and it has really been fun and fulfilling to take the time to think more conscientiously about learning materials and how they integrate with the way that I teach. I had been toying around with the idea of creating my own materials for a while (and have even had students suggest it to me in the past). My advice? If you have been considering it, just go for it. However, I would suggest that you keep it manageable, and be ready to adjust and re-adjust.
Also, I heard you recently won another grant that will help you continue your project. Can you tell me more about that?
In the fall, I received a Ronald and Deborah Ratner Distinguished Teaching Award, which comes with a substantial fund for teaching-related uses. In my application, I proposed to use this fund to develop learning tools that relate to the ALX materials. I want to hire a developer to create mobile-friendly apps that students can use for practice on key course concepts, as well asfor data collection and data exploration. I intend to incorporate these into my online learning modules as I expand into material for my second class. I think having received the ALX grant, and working on the textbook, was probably instrumental in the award committee believing in my commitment to pedagogy and teaching innovation. These awards go hand in hand.
---
To learn more about what other ALX grant recipients are doing with the funds and support they receive, visit affordablelearning.osu.edu.