New Affordability and Racial Justice Projects Will Save Students Nearly $100,000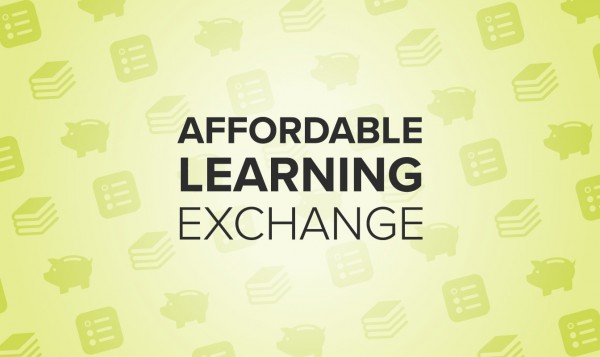 The Affordable Learning Exchange (ALX) works with instructors who want to transform their courses with open and affordable materials—from writing or curating their own textbooks to adding more diverse voices to the syllabus and even creating lending libraries for necessary supplies. The goal of this work is to reduce the cost of materials for students and to infuse courses with racial justice components.
In 2022, ALX requested proposals for three different grant opportunities:
$0 Course Transformation Grant: Winners commit to making 100% of course materials available at no cost to students.
Racial Justice Grant: Winners work to include materials that address diversity, equity and inclusion in a course, focused on encouraging student reflection and discussion on race and racism, and incorporating diverse voices and course content from historically marginalized scholars, all at no additional cost to students.
Syllabus Review Grant: Winners commit to saving students at least 25% of existing course materials cost by use of open educational resources, or OERs.
Thanks to a partnership between the Office of Technology and Digital Innovation (OTDI) and University Libraries, the following grant projects across nine colleges or departments on Columbus campus have been greenlit for 2023. Combined, these projects will save students nearly $100,000 in material costs.
$0 Course Transformation Projects:
Crystal Dunlevy - School of Health and Rehabilitation Sciences
Dunlevy will use grant funds to replace the two books that are currently required reading for students with a combination of materials curated from online OERs and library resources. Our partners at University Libraries will help research and make available these new materials to students. Additionally, the team will also produce ancillary materials to be housed in a Carmen course.
Mary Sterenberg – School of Communication
A returning grant winner, Sterenberg plans to update her existing textbook by including new, original material, new interviews, and additional videos to keep content current and avoid the assignment of new, costly textbooks.
Racial Justice Projects:
Lauren Hensley – Education and Human Ecology
Hensley will add reading material that focuses on stereotype threat as an important psychological process that can be identified, analyzed and counteracted. Additionally, she will ensure that her readings come from a diverse group.
Maria Brunette – School of Health and Rehabilitation Sciences
Brunette will develop and include three case studies from current interdisciplinary research at Ohio State and invite those investigators to class as guest lecturers. 
Elizabeth Weiser – English
Weiser plans to redesign her syllabus to completely focus on rhetorical ways that marginalized peoples have/are persuading the dominant society of their equal citizenship in the nation.
Catalina Iannone – Spanish and Portuguese
Iannone will continue to develop a syllabus that infuses racial justice across the semester, which will allow students to examine a broad variety of films that engage with the topic of race.
Ryan Helterbrand – English eader
Helterbrand will continue his ongoing efforts to incorporate the perspectives of people of color into his course and will include more non-Western readings into the syllabus.
Ryan Joyce – French and Italian
Joyce intends to add more local perspectives into his course, by examining the history of racism and slavery here in Ohio. Lessons will include local history sources, monuments, and digital archives.
Jennifer Glenn – Fisher College of Business
Glenn will create lectures and accompanying material to demonstrate to her students how corporate income tax exacerbates income inequality issues, and the subsequent ways these issues affect marginalized groups.
Brooke Starkoff – School of Health and Rehabilitation Sciences
Starkoff plans to work on an Accessible Learning Library (ALL) Project, a collection of texts relating to racial disparity. Using this library, students participate in a book club and share their reading experience with the class.
Deborah Stout and Amit Vutha – Mathematics
Together, Stout and Vutha will add material to their course so that students can analyze data using real-world gender and racial histories to gain a new perspective on inequality in society. 
Stephanie Aubry – Spanish and Portuguese
Aubry plans to revise the reading list for her course and include new texts and creative work that incorporate the perspectives and histories of undocumented migrants and those involved in Latino activism.
Ashleigh Hardin – English
Hardin plans to continue the redesign of her course and will center more topics on social justice issues. This will include researching and assignment of diverse voices, and will also include training for GTAs that teach the course.
Farrell will work within the Columbus community to find and host speakers with diverse perspectives as they relate to her course content. These speakers will visit the classroom to share their first-hand experiences.
Patrick Kielty – Fisher College of Business
Kielty will introduce the unique experience of black CPAs and their challenges in the industry. Students will also digest and discuss readings specific to racial justice and its relation to the auditing profession.
Lisa Christen Gajary – John Glenn College of Public Affairs
Gajary intends to adapt computer simulation approaches to model public decision-making at the intersection of diversity, inclusivity and public affairs. This will include assigned readings and group work in and out of class.
Syllabus Review Projects:
Five instructors are also taking advantage of the syllabus review grant. Winners of this grant option commit to working with University Libraries to reduce the cost of their learning materials by 25%:
Carla Cornette – French and Italian

Catalina Iannone – Spanish and Portuguese

Ryan Helterbrand – English

Ryan Joyce – French and Italian

Stephanie Aubry – Spanish and Portuguese
---
Congratulations to these instructors! Beginning in 2023, they will be working with ALX partners to put their projects in motion. Combined, these projects will impact more than 3,000 students, and this cohort is predicted to save students nearly $100,000. With the addition of this cohort, ALX projects have impacted over 200,000 students and saved over $20 million since 2016.